Year 3 Cannard Class
Tom Kennard was the last man in England to be hanged for sheep stealing .
The story goes that Cannard's Grave in Shepton Mallet is haunted by the ghost of Tom Kennard. He was hanged on the nearby gibbet for being caught with stolen sheep.  Today the Cannard's Grave roundabout is populated by concrete sheep, including one black sheep.
Hi there! My name is Mr Byrne, and I am Cannard Class teacher and Reading co-ordinator. On a Thursday afternoon, Mr Evans takes the class for PE activities. Please follow us on Twitter, Dojo so you can see what exciting things we get up to throughout the school year!
We have lots of exciting dates in the diary coming up and lots of learning ahead of us so make sure your attendance is excellent!
Teacher

Teaching Assistant

Teaching Assistant

Mr Byrne

Mrs Bowden

Mr Cowell

We have adopted a class management system called class dojo. Follow the link below for more information. If you do not have a parent code please come and see us. We will also be sharing with you work through our seesaw link throughout the year.

@StPaulsJS
Class Novels
Reeve and McIntyre bring you another rip-roaring read!
The Race to the Top of the World! It comes around once in a lifetime, and the prize? Your heart's desire. Shen and Sika can't resist the chance to win, but competition is fierce. The path to victory is littered with snow trolls, sea monsters, and a gang of particularly hungry yetis. But Shen and Sika have something the other contestants don't have. Actually, they have 66 other things; pugs to be exact. That's a 264 paw-powered sled!
Welcome to The Nothing to See Here Hotel! A hotel for magical creatures, where weird is normal for Frankie Banister and his parents who run the hotel.
When a goblin messenger arrives at The Nothing to See Here Hotel, announcing the imminent arrival of the goblin prince Grogbah, Frankie and his family rush into action to get ready for their important guest. But it soon becomes obvious that the Banister family are going to have their work cut out with the demanding prince and his never-ending entourage, especially when it turns out the rude little prince is hiding a secret...
Enter a world of Egyptian pharaohs and ancient curses from the Queen of Historical Fiction.
Anisha is all set to be a (reluctant) bridesmaid at Aunty Bindi's wedding...until a secret ransom note arrives. Bindi's groom has been kidnapped and will only be released IF THE WEDDING IS CALLED OFF! With best friend Milo, mischievous Granny Jas, a runaway lobster, a kitten-loving giant, and some super skills of logic and observation, it's up to Anisha Mistry to find her uncle, before the big family wedding of the year becomes a big disaster.
Mr Willy Wonka, the most wondrous inventor in the world, opens his gates of his amazing chocolate factory to five lucky children. Gobstoppers, wriggle sweets and a river of melted chocolate delight await - Charlie needs just one Golden Ticket and these delicious treats could all be his!? Click on here to purchase your own copy.
A poignant, humorous story of a pig, a spider and a little girl.Wilbur the pig's life has already been saved by Fern, but when he is sold to her uncle, he realises his life is in even more danger. Enter Charlotte A. Cavatica, a beautiful large grey spider. Charlotte is determined to keep Wilbur from the chopping block, and comes up with an ingenious way to do just that.
Books we will explore through English lessons
Can I Build Another Me? follows a child's hilarious, wildly inventive train of thought as he decides to make a clone of himself – and starts to ponder what makes him HIM. Is it the scar on his knee or his sticky palms? Is it his love of acorns or the way he winks? The more he thinks about it, the more complicated it becomes..
Hannah loves gorillas but has never seen one. Her father's too busy to take her to the zoo – or for anything else come to that. For her birthday, Hannah asks her father for a gorilla – but is disappointed when she discovers that the gorilla she's got is just a toy one. But then something extraordinary happens ... the toy turns into a real gorilla, who puts on her father's hat and coat and takes her off for a magical visit to the zoo...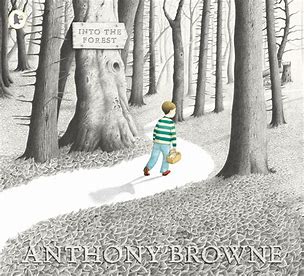 One night a boy is woken by a terrible sound. A storm is breaking, lightning flashing across the sky. In the morning Dad is gone and Mum doesn't seem to know when he'll be back. The next day Mum asks her son to take a cake to his sick grandma. "Don't go into the forest," she warns. "Go the long way round." But, for the first time, the boy chooses to take the path into the forest, where he meets a variety of fairy tale characters.
Once there was a girl whose life was filled with wonder at the world around her…
Then one day something happened that made the girl take her heart and put it in a safe place. However, after that it seemed that the world was emptier than before. But would she know how to get her heart back?
In this deeply moving story, Oliver Jeffers deals with the weighty themes of love and loss with an extraordinary lightness of touch and shows us, ultimately, that there is always hope.
One day a little boy is walking along when he trips, stumbles and falls ... into the Stone Age! He meets a girl his own age and her tribe, and learns all about their way of life. He watches them make tools, clothes and weapons. He sees how they hunt, fish, cook, celebrate – and even how they paint on the walls of caves. But when a furious cave bear attacks, he wakes up back in his own time where everyone tells him it was only a dream. But was it?
Why does the magical Tear Thief catch children's tears as they fall? Find out in this moving tale about how we express our feelings.